Can you explain to me what Namaste means and what would be an appropriate way to use it in a conversation?
~~~~
Namaste is a common salutation that originated in a subcontinent in Indian. When speaking to another, it is common that you will place your hands together up into prayer, palms touching, fingers pointed upward to the skies, aligned with the heart while presenting a slight bow. Anjali Mudra, is used a lot in Asia and especially in Yoga Practitioners .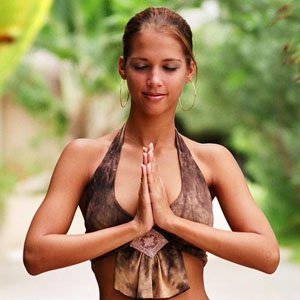 Namaste can be translated into numerous things, most commonly
"The divinity in me, honors the divinity in you"
"Namaste is derived from Sanskrit and is a combination of two words, "Namaḥ" and "te" (a shortened variant of "tubhyam"). Namaḥ means 'bow', 'obeisance', 'reverential salutation' or 'adoration'[2] and te means 'to you' (dative case of 'you'). Therefore, Namaste literally means "bow to you" translated as "I bow to you"
The gesture Namaste represents the belief that there is a Divine spark within each of us that is located in the heart chakra. The gesture is an acknowledgment of the soul in one by the soul in another.