I think this is an important one to touch on, it's not necessarily that humans have paranormal abilties, we ALL have this innate potential. It's not as supernatural as we deem it as, our consciousness is made to do this. The ego traps the soul into thinking that we are limited in our perception and our reality when we are truly multidimensional beings who are DEEPLY telekinetic in nature. I think the number one problem we have is that not everyone can SEE it so it creates a Resistance to the subject that comes across as fantasy, supernatural, alien or impossible. However this isn't necessarily the case. Many people don't realize that when we move in life we are carrying our aura with us, many people are too arrogant to realize/see that they are entirely made of energy and that this energy directs their will into how their reality is formed and created. When you are in a room with someone, don't you sometimes have the same thoughts at the same time? This is because the mind is connected to our energy aura. Our aura is not just a light halo above our head. It's a Torus field that stretches out far and wide, constantly moving and expanding in oscillations of frequency. 
Our energy is like this: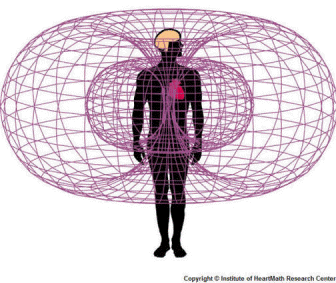 Meaning we are telekinetic by nature and what we attract with our thoughts, influences our reality and vice versa. Just because we can't always see what is not there doesn't mean it's not real, Look at what the power of Santa Claus does for little kids all over the world who believe in him so much that he's real. The mind is truly Magic. Many don't see how our world and how it functions between the symbols, the power of thought, the power of the law of attraction and the fundamentals of physics, can evoke an evolutionary response that is build around higher intelligence. It's more than just saying we all have psychic abilities. No that's not even hitting the point. We ALL have this potential within ourselves and that is an idea worth spreading because people constantly dream about this world but they cannot see it if they are still within this boxed thinking. It is all about the power of the mind and what we can truly accomplish within ourselves. It's all about inner alchemy to activate external alchemy within our reality. 
We all have this potential for these "gifts" because they are our DNA, our birth right, Our consciousness, our energy, our universe, everything is connected. So for someone to tell me what is happening to me is paranormal is merely people not looking from the same perspective as i do. We can all label this as crazy but the dream world the real world are realistically not that different in actuality. It's merely a matter of doing your own mind exploration. The problem with society is we are still stuck within the fear paradigm, we're stuck within that ungrounded fight/flight trigger of how we base our world on survivalism caught up in a trance of pretend. Waking from the dream is realizing you are LIMITLESS, you can develop telepathy, you can see energy and auras, you can understand people by the power of reading their energy auras, you can see beyond the veil any time of the day or night, ascension is not a date in time, it's not the end of the world, you can see into eachother souls by understanding that we are all mirrors of eachother infinitely connected. It's so much more than paranormal abilities. It's real life. It's everything. It's consciousness. It's energy. It's connecting the bridge of understanding between science and metaphysics by taking ourselves our of the world of skepticism we start to see from a new perspective that all is possible and all can come to light. 
I believe in humanity and the power of our minds will ultimately set us free. We have reached a point in our human evolution where our consciousness is expanding in knowledge of ourselves, we are not only understanding the truths of reality but we are starting to put our teachings into ACTION. It's more than merely words in a sci-fi novel, it's real life and it's happening. You can either jump on the train or be dragged, but Skepticism went out the window a long time ago. Now it's merely a point of accessing time and to see the veil of different perceptions of time awaken within ourselves. Things are changing from the inside out….Are you ready?