Ah kundalini!
In very simple terms the concept of kundalini awakening is very similar if not identical to the process of spiritual awakening.
"When Shakti resides in the base chakra, she rests. Here she becomes the coiled serpent, Kundalini-Shakti, wrapped three and one-half times around the Shiva lingam in the Muladhara. In this form she is the inherent potential in matter, the primordial feminine force of creation, and the evolutionary force in human consciousness. In most people she remains dormant, peacefully sleeping in her coiled abode at the base of the spine. Her name comes from the word kundala, which means "coiled." When awakened, this Goddess unfolds from her coils and climbs upward, chakra by chakra, reaching for the crown chakra at the top of the head where she hopes to find Shiva descending to meet her. As she pierces each chakra, she brings that chakra's awakening to her subject. In fact, some believe it is only Kundalini-Shakti who can open the chakras. If she is able to reach the crown chakra and complete her journey, she is united with her counterpart, Shiva, Divine Consciousness, and the result is enlightenment or bliss."
Anodea Judith. Wheels of Life: A User's Guide to the Chakra System
This passage is essentially a metaphor for aligning the divine feminine with the divine masculine. The kundalini energy awakens and rising like a serpent up the spine. This is depicted with the legendary Caduceus Symbol, our MEDICINE symbol.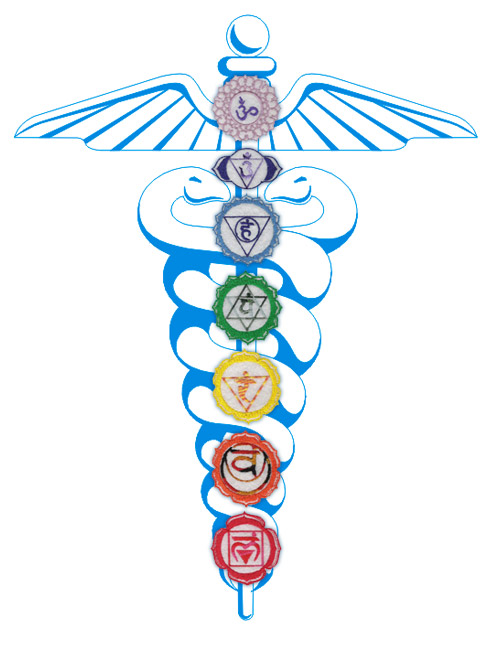 The awakening of the serpent, the feminine energy that which aligns in balance with the masculine to achieve cosmic consciousness. When we rise to the golden wings of the chariot of ascension.
"There is a great deal of research that is presently being done on Kundalini, and many theories have been formed about what it really is and how it is triggered.
 Kundalini is triggered by a guru. Any interaction we have with other people takes place on a chakra level as well. If we interact with people who are predominantly lower chakra, our own centers respond accordingly. We may be pulled down by such an interaction. Likewise, if an interaction occurs that stimulates the upper chakras, such as contact with a guru who has awakened his or her own Kundalini, this new influx of energy may awaken the disciple. When Kundalini is triggered by a guru, the experience is called Shaktipat. It awakens the centers and gets the Kundalini energy flowing, leaving its recipient free to experience both the wonderful effects as well as deal with the consequences it may affect in their lives and body.
Kundalini is sexual. The practice of Tantra sometimes includes elaborate yogic sexual practices, designed to arouse Kundalini and achieve transcendence. Such techniques may vary from prolonged orgasm to total abstinence. Some say Kundalini and sexuality are mutually exclusive, while others believe they are inextricably linked.
Kundalini is chemical. The sixth chakra is generally associated with the pineal gland. Melatonin, a chemical produced by this gland, is known to produce increased psychic ability, dream recall, visions, and hallucinogenic effects. Some believe that the visions induced by Kundalini are a cycling of neurotransmitters. In some cases, Kundalini may be triggered by drugs such as coffee, marijuana, or hallucinogenic drugs.
Kundalini is the result of vibrational rhythm entrainment in the body.Undulations of the spine set off rhythms, which entrain with the heartbeat, brain waves and breathing patterns, stimulating various centers in the brain. These may be triggered by meditation, breathing rates, or pure chance, as in the cases of spontaneous awakening.
Kundalini is naturally produced when there is a clear, unblocked channel connecting all of the chakras. This last is my own theory, which I see as an addition, rather than a contradiction to those above. If the chakras are seen as gears, then Kundalini is the serpentine motion that energy takes as it moves along those gears. In fact the chakras may serve as inhibitors of Kundalini, slowing it down so that it can be reasonably channeled and kept from burning up the mortal organism in which it occurs. At our present state of existence, the chakras themselves are not blocks, but stepping stones; at times, however, the unresolved patterns within the chakras may unnecessarily block this life force. Through a thorough understanding of our personal chakra system, we may be able to use Kundalini energy in a safe and predictable manner."
Anodea Judith. Wheels of Life: A User's Guide to the Chakra System (Llewellyn's New Age Series) My favorite <3
These are some of the symptoms one experiences during arising the kundalini:
http://www.elcollie.com/st/symptoms.html
~Namaste~
Ash