So this is a random question but I was hoping that you might be able to help me. I always thought that the black cat was my spirit animal until last night when I had a dream where a psychic told me that when I see a black cat I should run the other way. What does this mean? Is the black cat good or bad for me? I'm sad about the dream because I love black cats and was so inspired by them. :(.
~~~~
I like imaging black cats as mini black pumas or panthers 🙂
You must remember that dreams which may seem very 'literal' are actually very symbolic archetypal symbols  that represent aspects of you or your higher self. We work out our various problems in astral land. So you have to ask yourself what do you feel is correct with this dream, if you love cats then why would the psychic tell you the opposite? Is there some part of yourself through your intuition that needs to be addressed or focused on? IT could represent a certain fear too, why do you need to run away? We need to face our fears and be fearless like a bird traveling the skies.
To see a psychic in your dream represents your desires to know the unknown. You are experiencing anxieties about the future and in achieving your goals. Additionally, you may feel a lack of control in the path that your life is taking.
To see a cat in your dream symbolizes an independent spirit, feminine sexuality, creativity, and power. It also represents misfortune and bad luck. The dream symbol has different significance depending on whether you are a cat lover or not. The cat could indicate that someone is being deceitful or treacherous toward you. If the cat is aggressive, then it suggests that you are having problems with the feminine aspect of yourself. If you are afraid of the cat in your dream, then it suggests that you are fearful of the feminine. The dream may be a metaphor for "cattiness" or someone who is "catty" and malicious. If you see a cat with no tail, then it signifies a loss of independence and lack of autonomy.
To see a black cat in your dream indicates that you are experiencing some fear in using your psychic abilities and believing in your intuition. You may erroneously associate the black cat with evil, destruction, and bad luck. In particular, if the black cat is biting, clawing or attacking you, then the dream means that you must acknowledge what your intuition is trying to tell you. You can no longer ignore it. Do not be afraid to face the situation. If you see a white cat, then it denotes difficult times.
Kitty love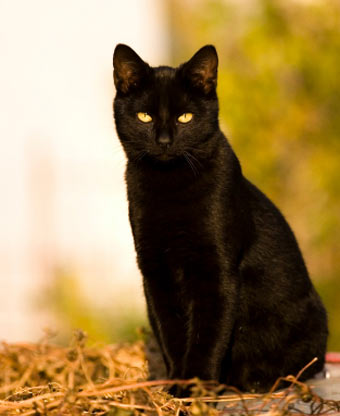 "Image By GuideYourPet"
Hope this helps dear
Much love and healing light <3
Ash