This article is a little different than our usual articles and for good reason. We're opening the doors on the membership community and free forum for the Awakened State right on our site.
This has honestly been a real dream manifestation in the making as I've been hinting at creating a forum for about two years now (I hear you Tumblr members 🙂 ).
I originally just wanted a basic forum but after having numerous problems with the previous one, I gave up on the idea. Then later by some synchronicity someone suggested this gorgeous theme to me in a business fb group at absolute random and my eyes lit up knowing this is THEE ONE.
I'm so happy to receive this gift from the universe and present to you today our new membership community platform!
The bonus is it's much more than a simple forum, it's a community network.
The possibilities here are amazing because not only can you submit topics and experiences within our forum community, it plays out like a spiritually designed social network.
Here's a look at the Forum: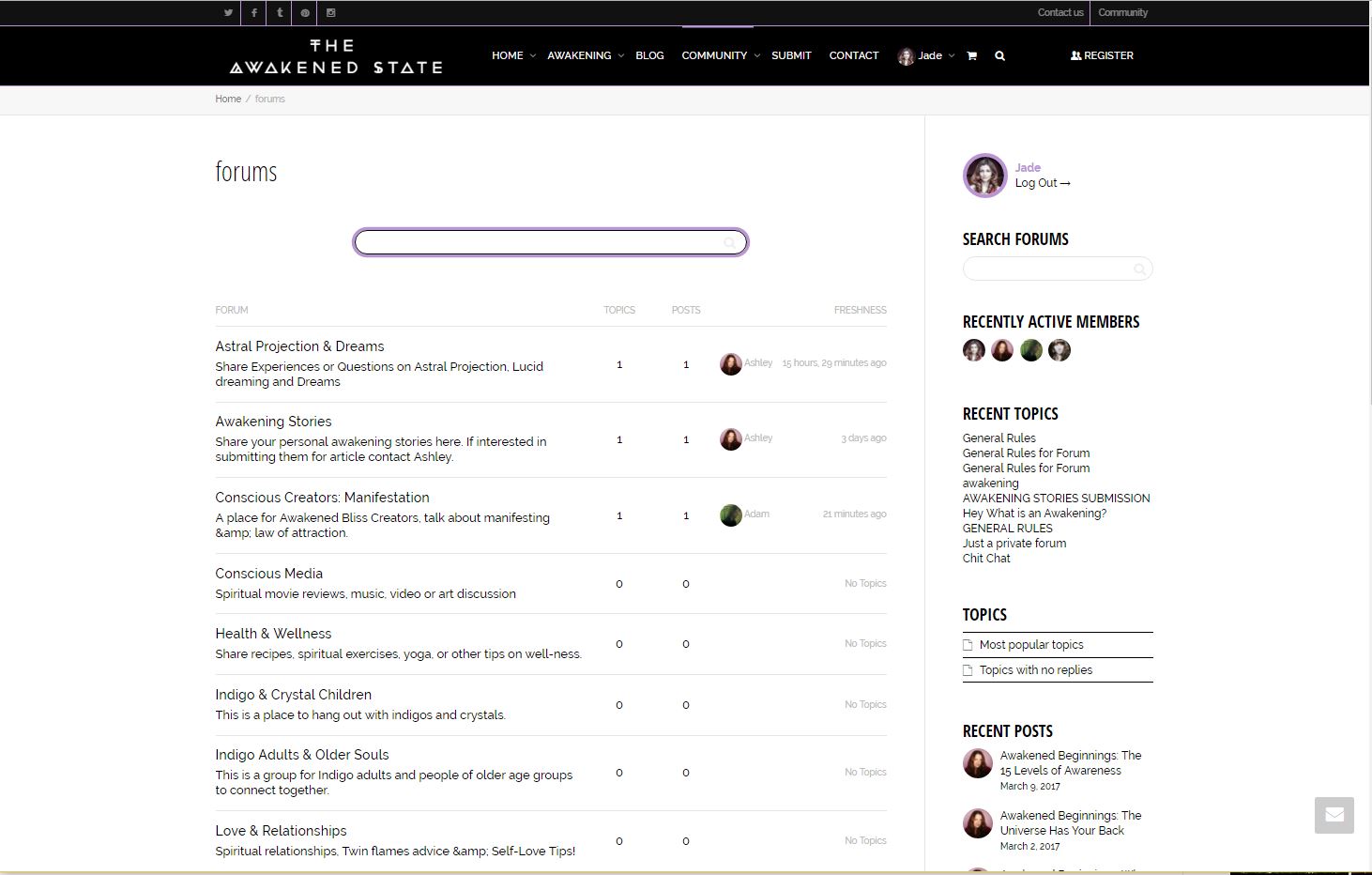 The platform is designed so we can create an interconnection between readers, subscribers and also eventually customers.
INSIDE THE COMMUNITY:
This is a network where you lovely souls can interact together, inspire, empower and support one another. I decided the Awakened State's new mission is to provide divine support and guidance within our community.
 YOUR PERSONAL PROFILE

You can create a personal Profile  – Add your location, picture, cover photo, bio, info about your awakening journey, or whatever you feel comfortable sharing
GROUP FORUMS

We have group forums  which is a special feature where you can join the topic that interests you and connect with like-minds in that particular group. Say you want to talk to people who are interested in astral projection? Well just post in the activity status about your question or experience so you can get feedback. You can also write a topic about your question in the astral travel forum.
ADD FRIENDS

Add spiritual friends that you connect with so you can even talk to eachother through private message or send out a group  message through the public feature.
ACTIVITY FEED

Inspired from facebook's newsfeed, this theme includes a special activity feed where you can post updates, concerns or just share a thought with us in the community. This a unique feature because rather than focusing on a bunch of different things on fb the awakened state activity feature is based around all the topics you personally enjoy with people who are spiritually oriented. (plus won't think you're crazy 😉 )
FREEDOM

Before I started the register feature, I made sure to add a SSL to the site so your information is secure. You can also show what you would like to be visible vs not. There is also the feature to set up or disable what notifications you would like to receive( because i know that can get annoying). Even if you desire, you can delete your entire account without any hooks. The key is in your hands here.
CONNECTION LIKE NEVER BEFORE

I don't know how many times my readers have asked how they wish they could communicate with other awakened state readers, well now we can connect like never before and i'm sooo excited for this. The facebook group was a precursor to the forum community and now we can have both. We're just getting started.
DIVINE SUPPORT

Our community is designed with you in mind, my goal is to really let this be a place where you can come for divine support and guidance on your spiritual awakening. Let yourself help others and open up your gifts to individuals who may need the support you once needed. We can create a ripple of divine support and help eachother learn faster or realize they are never alone on the path. This is something i've never done before as a group aside from fb so it will interesting to see how it transforms.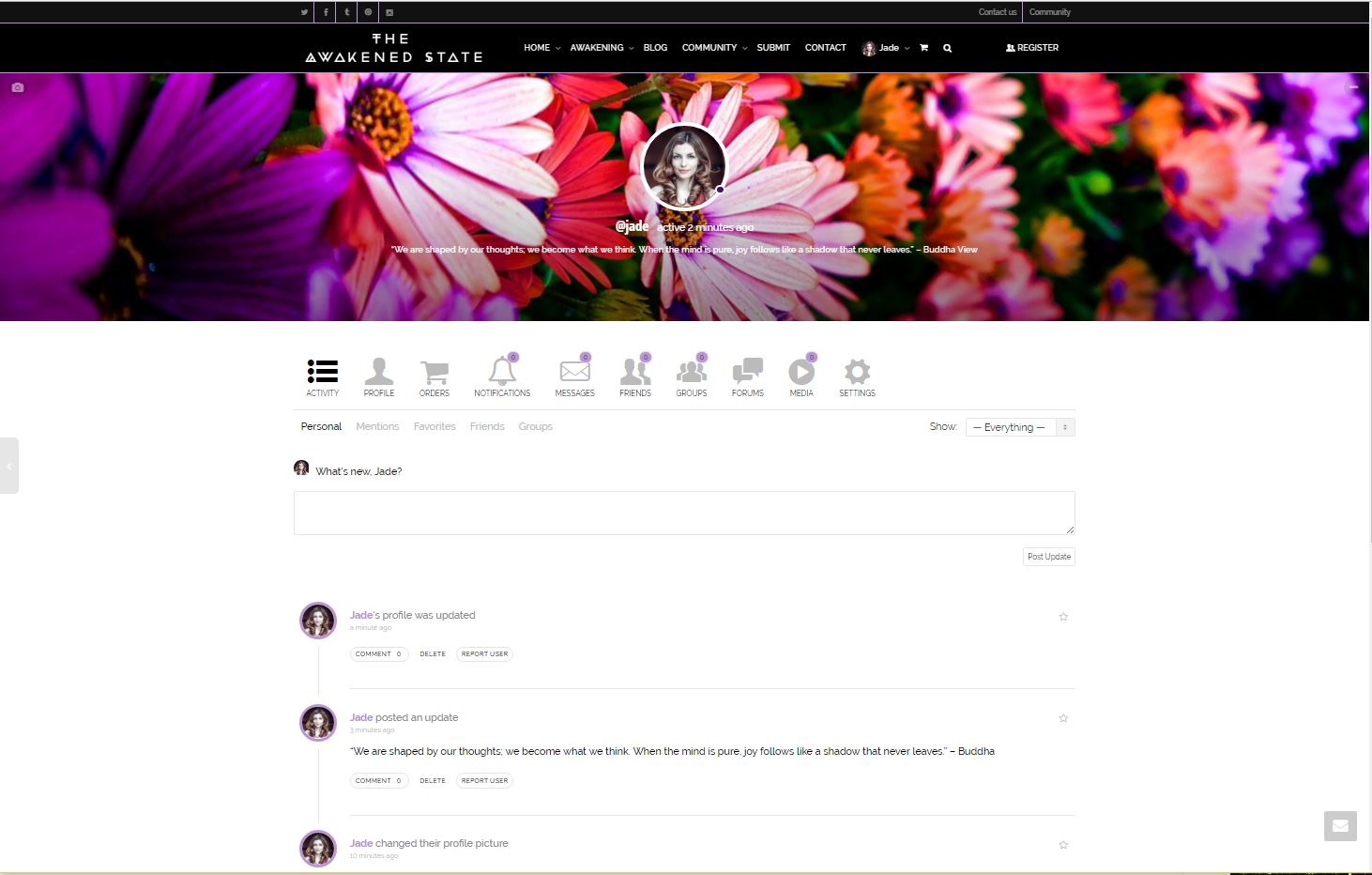 NEW FEATURES IN THE AWAKENED STATE
CONTACT BOX & SUBMISSION BOX

I transferred everything over so it would a simple, easy process for the both of us. There is always a way to contact us if you have questions, desire to submit an article or ask for general advice. Now it's very simple, easy to read and fluid.
HOMEPAGE

Rather than our home page being the blog, I decided it was time for an official homepage. This has your basic navigation where you can see the main features of the Awakened State all together. Our two series, Awakened Bliss Creator Challenge, blog and community all rolled up into one.
BEGINNER SECTION (COMING SOON)

I'm setting up a beginner section for those new on the path, this was a request that continuously kept coming to me so I decided to create one. Currently in production, will be out soon 🙂
AWAKENED LIBRARY

This is something I started around christmas, our Awakened Library is for VIP subscribers of our email (not to be confused with our membership login) and it's a mini portal of guides, workbooks and inspiration to support you on your journey.
THE AWAKENING PATH ECOURSE (LAUNCHING SOON)

I'm creating a new ecourse for our community about how the subconscious influences us through our mindsets. It's about learning the healing work necessary to start dismantling your past, to awakening your inner creator through manifesting and learning mindsets to manage your energy body. I'm really excited for it.
So that about sums up everything! It's been a lot of fun and hard work to create this. We're still in beta making sure everything runs smooth, if you have any questions or fun suggestions feel free to leave a comment or contact me directly.
If you're ready to join us you can register below!
I look forward to seeing your new topics. 🙂
[kleo_button title="RESISTER HERE" href="https://www.theawakenedstate.net/home-register/" style="primary" size="xlarge" ]