I've been feeling the October vibes, October really does have this special energy to it. I don't know if it's halloween, scorpio season, or just the ability to watch nature go through its own transformation. It has a natural witchy vibe to it. Continuing with our spiritual Life series, we're moving into talk on Manifesting & Intention Setting!

I can think of no better time to talk about the often mystical or magical view of manifestation than the energy of October.

When it comes to Intention Setting, many of us have different ideas of how to set intentions.
SOME COMMON WAYS PEOPLE INTENTION SET

It might look like Setting some new year's resolutions because that's the status norm and falling off the bandwagon a month or two later.

It might look like being hyper-focused on goal setting, getting caught up in hustle mode, over working and exhausting ourselves to the point where we get the result but we might not even be happy at that point since it took so much effort to get there.

It could also look like, Frantic manifesting where we're obsessively writing 100 affirmations a day, staring at our vision board, reading all the books, but still feeling discouraged and stuck.

On a more positive note, Intention setting can also look like being Aligned with your goals, setting the intention, getting into action and moving towards your desire with ease, grace and flow.

The truth is we hold multiple meanings for how we set intention and goals, the real question becomes: Are we setting them so that we're in alignment with them or misalignment?

When we're in misalignment with them, it looks a little bit like the above. The main reason for this is because we still unconsciously feel separate from our Intentions and goals energetically.

It might start feeling like we're running up a rough hill to get to our intentions. I learned awhile ago that this is NOT the way you really want to set intentions.

Here's Why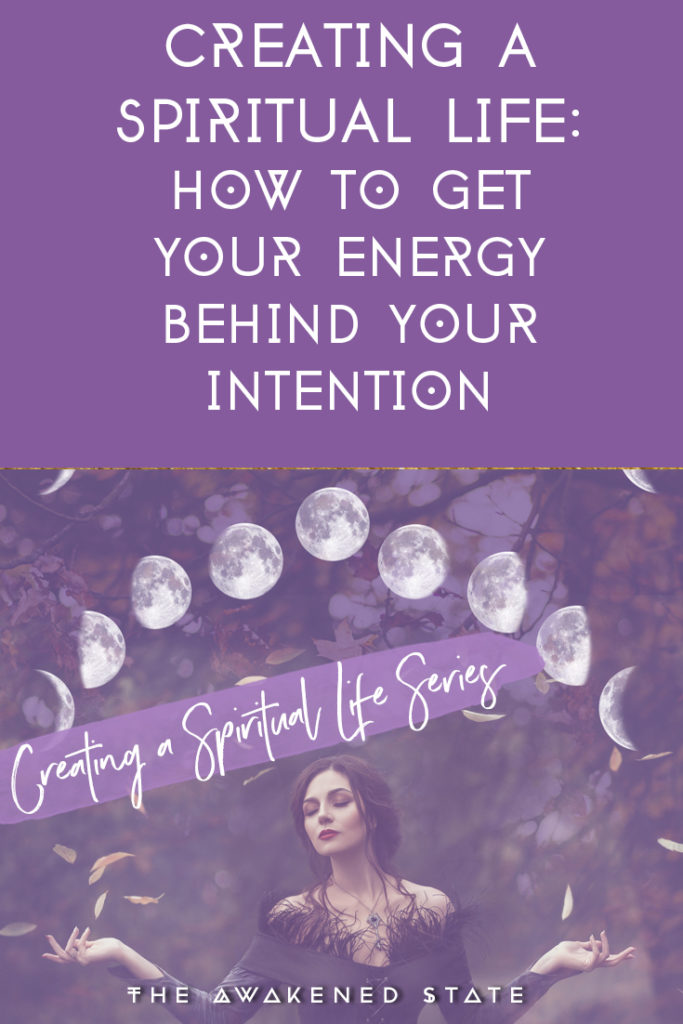 EVERYTHING IS ENERGY

Down at the microscopic level, we know and the scientists know, deep down everything is energy. Words carry vibration. thought carries vibration. Emotion carries vibration. The desk or chair you are sitting on also carries a vibration that materialized into Matter, form. You are a part of that same system, same energetic network.

Everything is a part of that energetic network, this means everything is oscillating at particular frequencies in our surroundings on a day by day, moment by moment process every minute of our lives.

Bit trippy and awesome, right?

Well, what do you think happens when you set that intention?
The same thing is going on.

We set that intention and it begins activating a set vibration putting you on a different trajectory or pathway of vibration.

Activation really means, we're like a tuning fork that was 'vibing' on one channel and then we start to Attune to a different channel.

Anyway, when we set the intention we begin activating a vibration.

we do the same thing with our words and how we activate a vibration of frequency around what we're calling in that day with our speech. Don't believe me, look at what happens when you're vibing with a bad day!

The idea that channeling, manifesting, or activating sounds like big mystical words from the otherworld is obsolete.

We're doing these things all the time, it's just most of us are doing them unconsciously not realizing that their emotional reactivity is programming their life.

It's really not that mystical. It's vibration.

As I explore in today's vlog, We must begin to realize that Activating our desires begins with getting our Energy behind our Desire.

ARE YOU WILLING TO BE A CLEAR CHANNEL?
The truth is it feels hard because we're deflecting ourselves from receiving and expanding our capacity to receive In our intentions. This is because we feel out of alignment energetically with our intention.

And in return, we are negating how the body actually works!

Our Subconscious mind must BELIEVE in order to get behind the intention.

We must become an energetic match towards our intention.

If you have a bunch of b.s. programming and beliefs that are telling you otherwise, it's always going to feel like you're running up a hill of resistance. Spoiler alert: because you are Resisting and deflecting what you want.
We have to remember how the body works. If the mind doesn't believe, the feeling cannot live in the body.

Therefore we must begin getting ourselves into soul Alignment with our desired intentions.

I explain deeper in the video below:

BRING YOURSELF IN THE FEELING
Get Present
What do I desire to Receive?
– Get Clear with what you want, precise details, specific, measurable.
How do you desire to Feel?
What brings you those feelings now that you can do right now in your Life?
Are you fully in Alignment with your Intention?

READY TO LEARN HOW TO SET YOUR OWN INTENTIONS?
The first step to true Manifesting is to Activate your Intention
Intentions are everything,
They teach us to OWN our co-creative power.
Manifesting is our natural birthright.
This has been in the making & it's probably my favorite guide I've ever created.
I'm Sharing my breakdown of Intention Setting
& my sacred 8 step process to amplify my intentions into alignment.
Let's go over:
▷ How to set intentions so they are extra potent for your manifesting game.
▷ What are different ways we can create our own ritual for intention setting
▷ The breakdown of Misalignment vs Alignment
▷ How to Apply my sacred 8 step process
▷
Bonus:
Journal prompts to Activate your desires
Sign up to Receive this guidebook here:
https://intentionguide.theawakenedstate.net/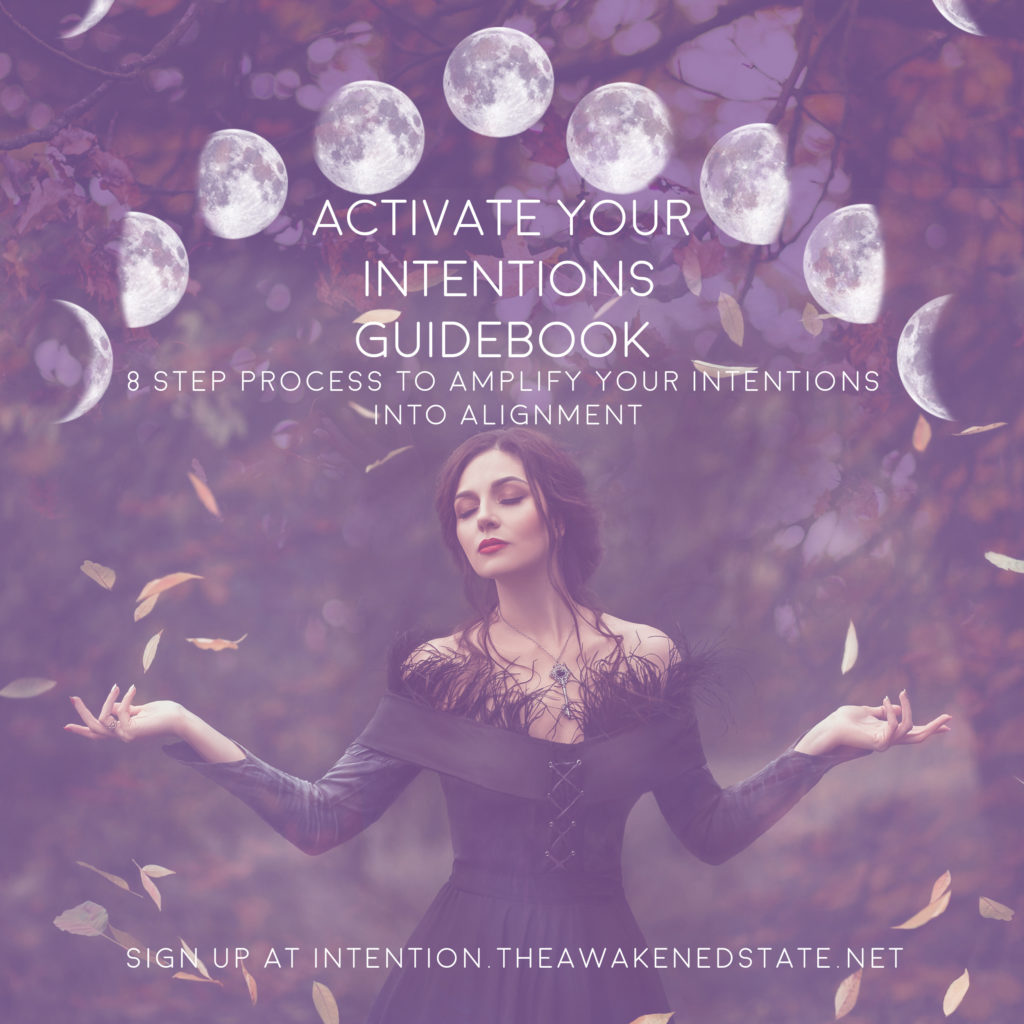 Understanding Energy, how to be a match and potent intention setting is the start of powerful manifestation work,
that often feels like magic,

Hope you have a witchy october, If you celebrate 😉

P.S. If these new topics are deeply pulling at your soul and you're wanting to learn more about Alignment, Manifesting, How to reprogram the mind and Choose to Prioritize SOUL.

Soul Nourishment Bootcamp is coming and we're diving DEEP into these topics through daily lessons and trainings to bootcamp your mind back into alignment.

Some of these topics I've barely graced the surface of talking about until now, fresh material on Manifestation, Soul Alignment, Becoming an energetic match, Next Leveling your worth, Deeply communicating with Soul and learning how to Tap into your Soul Blueprint.
This program is an exploration, a Journey of discovering and uncovering your Authentic Self through tapping into the layers of your Soul Blueprint.

This is a bootcamp to RISE into your Authentic Self
learn to energetically raise your standards and next level your worth and potential through choosing to tap in fully to listening to SOUL, Accessing your Soul Blueprint, and Diving deep into your Higher Truth to create miracles in your life.
As this is the first round,
this will be low cost – high value, with support from me in the group for the entire duration of the course.
Want to be the first who knows when I'm releasing this bootcamp & early bird prices? Sign up for the Waitlist below!
>>> Soul Nourishment Bootcamp: Sign up for the waitlist >>>