In truth, our paradigm is always shifting gradually. Life is always changing, we're not the same person we were five years ago let alone, a week ago. Life is always flux, ever-changing, ever-evolving.
We often desire new things in our life, like upgrading your computer or getting a new smartphone. However there are particular moments where  your soul uproots you and creates a life-altering transition.
Think about the transition from High school to college, do you remember the fears & anxieties? Or how about the transfer to a New Job, where you're suddenly the newbie all over again, making mistakes and learning things from scratch? Or a new home, you get lost in the neighborhood because you don't know the route yet.
This is basically the equivalent of the shifts that occur during Spiritual Awakening. It will literally feel like the old you is disappearing.
You get uprooted.
Everything from your reality begins shifting drastically. However what about the moment before the move, before the change takes place?
Our Paradigm starts dismantling. Everything begins ripping at the seams.
The transition phases aren't a one time event, you will notice these shifts because they drastically shift your consciousness and naturally your reality follows suit.
The walls start falling and the illusions begin ripping at the seams.
Take a real-life example:
Back in 2013 my partner and I were struggling after our first baby was born, we lived at my parents house, a 2 bedroom house. That's four adults, a baby, and three dogs. My partner was switching jobs, I was on maternity leave, we didn't have an income, we were feeling quite hopeless. After a few months, finally he got a new job and we started saving, but suddenly our lives were getting complicated.
There was no space or privacy, we had to eat separate meals because of my parents personal diet was no carb diet. We had two sets of groceries in the fridge, there was no space for our things. One bathroom for four adults, the baby couldn't stay on the floor without the dog almost trampling on him and soon the space was getting less and less. Randomly I'd get into fights with my parents, we'd end up taking on eachother's empathetic baggage and the list continued. The friction grew and grew until eventually, we HAD to move.
The energy had to shift because there was suddenly no more room to grow in this house.
Well our energy bodies work the same way. This is why you can always pinpoint when your life is going to start shifting. The resistance will be at a head, ready to uproot you and move you somewhere else.
Think of it like a tornado. Tornadoes are a cyclone of chaos, a blackhole moving debris from one location to the next. The chaos builds and builds going into a head, eventually creating a breaking point to start opening the door into the new.
The reason for the chaos is we are fighting the resistance of the old energy. We're hanging on for dear life, staying in the past baggage. Instead of moving on, we linger in the chaos of our past.
This will happen at significant points on the Awakening journey ones such as the dark night of the soul, Ego Death, moving beyond dualistic perception, etc. You will begin noticing the more you pay attention to the resistance in your life, you will see the changes starting to take place all around you.
Everything begins falling apart.
Here are some signs your Paradigm is starting to dismantle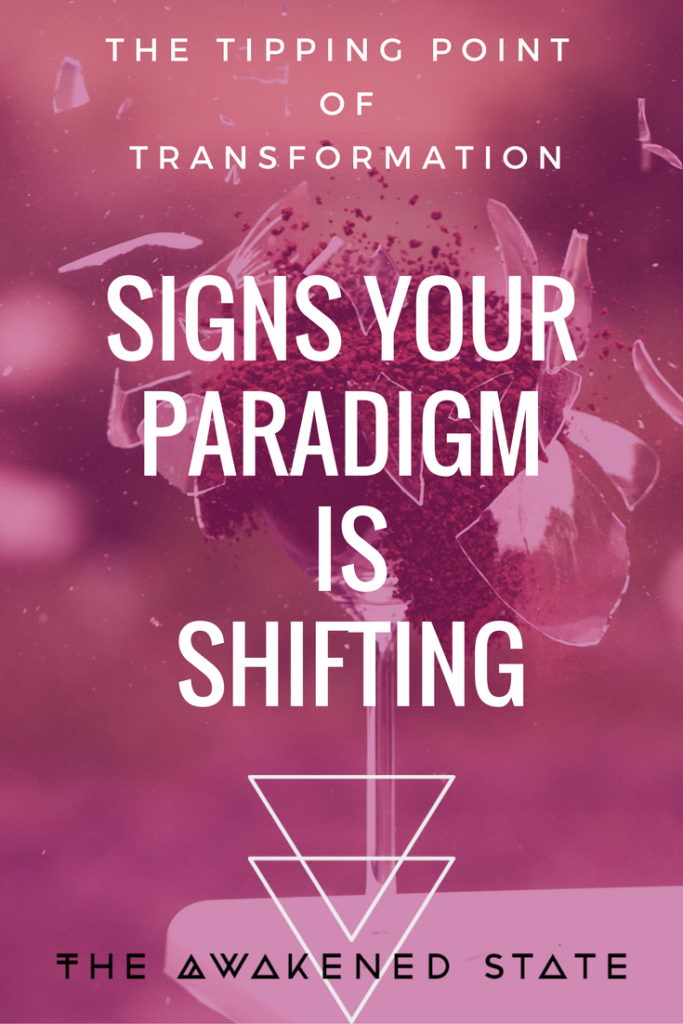 Signs Your Paradigm is Starting to Dismantle
THE BUILDING OF FRICTION – AKA SNOWBALL EFFECT
Like I mentioned above, the number one sign of Paradigm shifting is a sudden, ridiculous increase in friction in your life. Negative Emotions will be breaking through, there will be fights, anxiety attacks, relationships break up, and everyone around you is fiesty. Chaotic Energy builds and builds snowballing into your reality, ready to break.
EVERYTHING STARTS BREAKING
This one is weird because it starts getting surreal. First it will be an ipod that doesn't work, then your chair breaks, the kitchen spicket is broke, the computer is falling apart, you only wear old clothes, then suddenly you get a hole in your jeans, applicances break, the radio in the car doesn't work, everything starts falling apart and doesn't seem to stop. Environments, people and home start deteriorating.
HOLES BEGIN SHOWING UP LITERALLY & FIGURATIVELY
As things start breaking, you see the illusions you created here. You also begin to notice the shiny new feeling you once had is gone, you see the wallpaper peeling suddenly, random holes show up, and you can see within them. People begin revealing themselves for who they actually are as if you're in a transparent window. Truth comes crashing out. It becomes a Revealing and you can see through. The walls start falling all around you.
ABRUPT CHANGES START HAPPENING
Your mind is craving New things subconsciously. You may suddenly want to do something entirely different, you have a drastic life style shift like a new diet, converting religions or  direct change  like a baby or career move. Your subconscious is pointing the way BUT your reality hasn't caught up yet so you CRAVE it like chocolate cake.
YOU PICK UP HOARDING TENDENCIES
Normally you're pretty in check with your materials but out of the blue, you're suddenly getting a chaotic abundance of things coming into your life or staying in your life. Random people just decide to keep giving you things, you go on a spontaneous shopping spree, clothes pile up, your house begins looking like a episode of hoarders and you're flipping out. You're hoarding the baggage of the past and it's chaotic, flowing in. You're stuck in stagnant energy.
Best advice for This: Start Clutter Clearing the Energy
THERE IS NO SPACE
Besides Hoarding There is no space, every shelf is filled, every cabinet stuffed, every messy closet has no hangers and there is a slight case of clastorophobia from the stuff. There is simply no where to grow because the space is filled to capacity. It needs to be released or let go.
NESTING
Like a Mother bird preparing her home, nesting will come up tenfold. Whether male or female, your subconscious is nesting so you keep wanting to clean, get rid of things and cleanse your energetic space. You desire to keep getting rid of the old which creates a cleaning addiction.
EMOTIONAL BAGGAGE
Everything starts surfacing including our emotional baggage and past habits. Retrogrades are also great growth periods for this. It creates a space where you're ready to emotionally purge these old memories and fully let go of them. It's a very healing energy because you're preparing yourself for the New energy incoming.
SUDDEN ENDINGS
It's the end of a era! You begin experiencing a ton of endings like a domino effect. This can range from all sorts of things such as death, break ups, getting fired, a new job offer, going to college, end of singlehood, beginning of motherhood or a new spiritual philosophy that changes your life. You know real endings.
Paradigm shifting is like traveling between worlds.
You start breaking through to a new you and a new reality. You begin creating a new vibrational essence.
We're in a constant state of our paradigms shifting but these giant transition leaps are life-changing.
It's good to remember every experience changes our trajectory. Therefore when we're in the state of shifting paradigms be aware to make your decisions and attitude open to more possibility in your reality.
The changes become more rapid on the awakening path. When we allow ourselves to be open towards surrendering to the changes, life moves easier.
It's kinda like construction, everything needs to be dismantled so you can start rebuilding and creating the foundation of the new.
We're birthing the new into your world.

P.S. Are you having Trouble with Getting into Action? I have just the thing for you!
The Reconnect to Soul Challenge – A 5 Day Challenge To Amplify your Intuition, Ditch your blocks and Get Back into ACTION! (details below)
The feedback around the challenge was so amazing, I decided to bring it back as a very low cost offer in the shop!
Here's some of what people said after doing the soul work that accompanies each lesson:
"At times I forget who I am and what I am capable of.I came here specifically for a chance to remember and it all came back – THANK YOU!"
"Since the challenge I have had several powerful breakthroughs in perception! I was finally able to see a long time trigger from a different perspective and I realized that I was projecting an aspect of myself that needed healing onto the situation. It was a huge "AHA!" moment for me."
"I just finished day 2 of developing my intuition. So many great nuggets. A revelation to realize the interconnectedness of mind body and soul. "
"Ashley, thank you for putting together these challenges, they in themselves are so helpful!!!! "
Why I felt called to make this challenge for our community:
Many of us are feeling uncertainty, low motivation, stuck in inaction or falling into procrastination right now. This is the perfect time to get reconnected to soul and amplify our intuition.
When we reconnect to soul, we feel motivated to jump into action.
We need a spiritual tune up & a mini challenge is a perfect way to do that.
If you are feeling:
+ You have trouble with following through
+ Low Motivation
+ Stuck in Inaction
+ Procrastinating
+ Caught up in fear or uncertainty
+ need help connecting to spiritual guidance
+ ready to expand your third eye
+ cultivate your intuition
This is probably the challenge made for you!
Check it out below for immediate access after signup:
>>> The Reconnect to Soul 5 Day Challenge + Soul Work >>>
Sending love + hugs,
Ash