I have a lot to say today as I am bubbling with excitement!

While today is the final day to join Chakra Academy, I am also officially announcing I am a registered Amazon Author with my first ever in Print Book – Awaken your Power to Manifest.

You can get your OWN printed copy to your house right now on Amazon right here:

>>> Awaken Your Power to Manifest: A 30 Day Manifestation Challenge of Gratitude, Energy Tools & Rituals >>>

(Prime Users: I also know if you get prime it does come fast, because my mother in law bought a copy and she got hers right away so just sayin there isn't a delay in shipping that i'm aware of 😉 )

>> It would mean the world to me if you buy it to please come back and leave a review. The more reviews we receive, the better the visibility on Amazon so more people can discover the book and its magic.


The Journey of Writing this Book – Behind the Scenes:

Let me tell you a little about the journey of this book if you're curious: (scroll to the middle if you want to know what the book is about)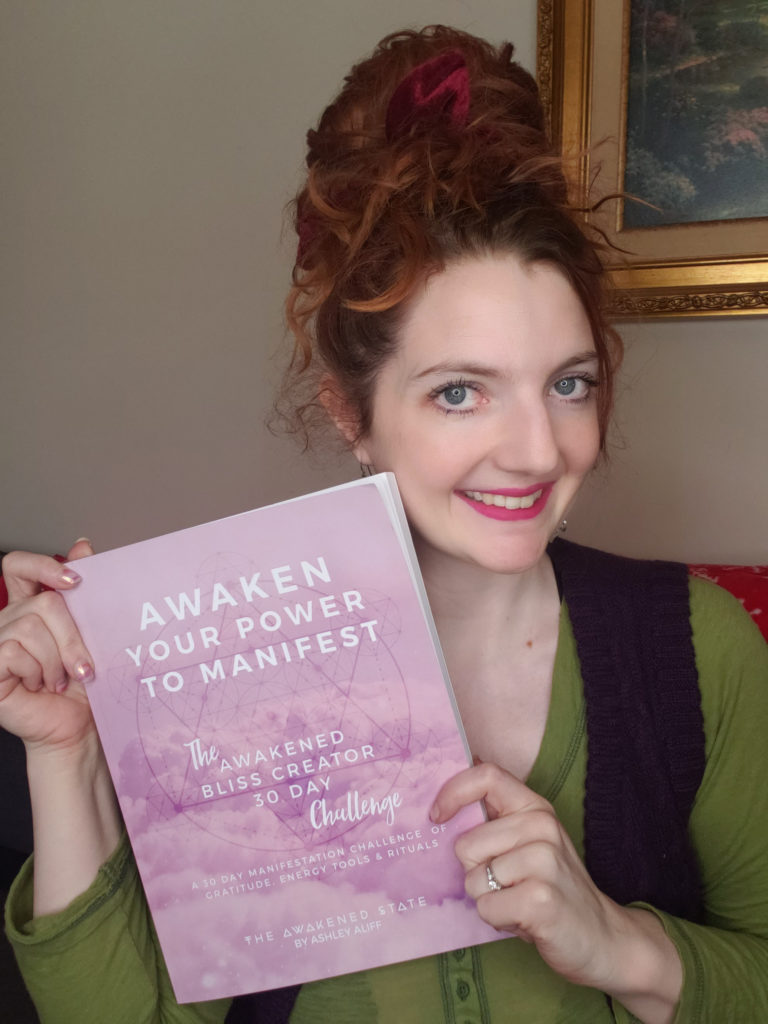 I think it's fascinating to me how a lot of people don't really talk about the transformation and moving through fear that happens when you finish a project/goal. Mainly we just see the highlight reel that occurs AFTER the goal, we see the celebration pictures.

The reality is,

This book sat on my computer for years, untouched, – due to fear and disbelief, a little(okay a lot) of stubbornness – I wanted to publish a kundalini book so I pushed this book to the side for awhile, it just didn't feel right publishing it before the kundalini book.

This is how crazy the mind is when resistance is occurring,
I also didn't want to buy a proof – In my mind my excuses were, i thought they were a fortune to get your book printed – spoiler alert it wasn't LOL
(transparency, I spent $40 on the first proof with one self publisher, i spent $24 the second time in the formatting/editting process and $3 the third time for final draft. The ego, People! )

I had soo much resistance around this book,

But one day I had an idea – I was on my computer and noticed, i literally had a completed book on indesign just sitting there untouched.
It just felt wrong leaving it there.

what if i just released it anyway –
But then i had a better idea – WHAT IF I UPDATED IT?
and Change the cover. The cover was quite cringy. My daughter gave me the idea to make the colors pop on photoshop.

Then I decided to go through the entire thing, keep some elements and update the entire challenge with a fresh perspective that I now have on the law of attraction.

Let's talk about what this book is about:





THE POWER OF INTERACTIVE LEARNING 🙂

I wanted to create something different than a simple book.

I have always been a hands-on person because I see the power in it. I know it's easy to fall into the trap of reading book after book after book with no action, no implementation or application. It is a slippery slope in the personal development and law of attraction world.

It's easy to fall into the limbo of I'm going to absorb all this information but I'm not going to apply it, instead – i'm going to just go pick up another book – unfortunately so many books are written this way too.

This is a 30 Day Challenge on Manifestation




This workbook is interactive on purpose – It is a 30-day challenge of Manifestation rituals, gratitude practice, energy tools and symbols of awareness. This book is made for you to practice how to manifest in 30 days while actively learning to cultivate your self-belief. A missing ingredient that is not mentioned in a lot of law of attraction teachings. It also includes journal prompts, action steps, daily intention, and ways you can implement each lesson.

if you've been with me for a while, this challenge was originally written in 2016 called The Awakened Bliss Creator Challenge, some of you on here I'm sure have already done the challenge back in 2017.

I first created the challenge for myself sitting outside my balcony at my old apartment, in a tiny little notebook, pen to paper. I called it a "power window" challenge(glad I came up with a better title since then haha)

The main goal of the challenge was to prove I could manifest – I had a ton of self doubt, disbelief and passion towards manifestation, but I wanted to prove I could do it consistently. I also noticed with a lot of trial and error, there is a hidden power when you build momentum with gratitude. it does something unique to your energy.

The goal was simple: Learn to manifest in 30 days by:
a. Working on managing my energy. (something I discovered helped my manifesting)
b. Challenge myself to consistently manifest.
c. Build Belief (though i didn't realize this until later)
d. Play with unique energy tools and rituals to further naturally raise my vibration and get out of my way.

What resulted from that initial version of the challenge caused me to:

A. Launch the website
B. Increase my Money mindset
C. Manifest all sorts of crazy things.
D. Start the Business with an idea to create a course.
E. Attract Mentors to guide me further on the Entrepreneurial journey I started

And sooo much more.

Then I decided to share it on the website with my readers and they gave amazing feedback that it worked for them just as much as it did me.

However it is different than the 2016 version, there are many changes, some of the lessons have changed while others have stayed the same. For instance, the commentary and Manifestation Lessons are more in-depth than the original paragraph I would send via email.

Over the years I still have people mentioning this challenge to me and the impact it had on them. How people would go back and do the gratitude practice again, print extra sheets so they could do it for months because it helped them so much with their energy and mindset. I have had comments on the Symbols really helped them practice their manifesting skills and taught them to smash self-doubt. While some of the Rituals helped others get over a relationship, think more positive about money, or stop taking manifesting so seriously by having fun with it.

It is meant to be a fun book.

it is meant to be a book about owning your power and remembering it.

I always envisioned myself as an author, writing has been my passion since the days of writing poetry at 15. My college double major before I left was English literature and psychology. I am naturally a writer.

However, I NEVER would of thought this would be the first book. In my mind, it has always been the Kundalini book or the chakra book so goes to show you, That is the magic of the universe at play.

While a lot of these are my earliest foundational teachings on manifestation, there are many moments where I combine old lessons with New teachings.

This includes lessons on self-belief, encouragement, building beliefs, emotional needs, emotional Empowerment, and the process of claiming from the quantum. To name a few – while at the same time the classics are def. in there, you may see some elements of the Energy Management Toolkit, the early days of the abundance check, and writing to Higher self.

If you are still reading, thank you.

While I am a bit emotional and proud of myself for actually following through on this book, I could of gave up MANY TIMES especially during those reformatting issues….my inner procrastinator knew better lol

I hope you enjoy it and i'd like to close with my From the Author note on Amazon:

This is for anyone who lets the poison of doubt, criticism, fear, and judgment, cloud them from seeing their own inner genius. This interactive workbook is for anyone who ever felt the energy of defeat, self-doubt, where their inner saboteur was bigger than their inner faith, this is for anyone trying "all the things" but never quite breaking through. This is for you…

I first created The Awakened Bliss Creator challenge (The Original Title) around 2016, it was a time where I was deeply struggling with my own Self-Belief. I have now updated the challenge with fresh perpsectives that I grew to understand and apply back into my life on the law of attraction since then. The main thing I've learned since that time period is that despite whatever struggle you're facing, however, stuck you feel or even how dire or awful your current situation; You are Always more powerful than your Circumstance.

You are innately Worthy as a Co-creator of Reality and Manifestation is your natural birthright. The Problem? We weren't exactly taught this in school, just like learning to ride a bike or practice how to drive, sometimes we need to train our minds to believe in ourselves.

This isn't just a book on manifestation, this is a book to give you what you actually need:
The Power To Believe In Yourself.

That is why I created this book.
Enjoy.


Get your own Copy on Amazon here:

Awaken Your Power to Manifest: A 30 Day Manifestation Challenge

I would deeply appreciate it if you buy the book to come back and leave a review so we get this book on a higher search ranking. Thank you so much for all of your support over the years to keep going!


Also naturally, i'm already ready to start writing another one, maybe it will be…. the kundalini book or a spiritual planner 😉 hahaha


To new Beginnings, cheers!