Welcome back this is part 2 of our 5 part series: Symptoms of Awakening
Part 1 – Awakened & The Edge of Insanity, Why Am I losing it?
Part 2 – {You are Here} – Going into the Abyss: The Dark Night of the Soul
Part 3 – The Transition Phase: Spiritual Bliss to Stagnation
Part 4 – The Threshold: The Beauty of Ego Death
Part 5 – The Divine Creator: Crafting the New Identity
Okay we have to go into the topic no one wants to talk about..going deep into the Abyss of Fear. The Void.
It's not all bad. Fear is actually one of our best cosmic teachers on the path because it allows us to see ourselves from the inside out. The dark night is actually a precursor towards spiritual awakening but it can be revisited when we go through a deep transition period.
The Awakening Journey is very much like the Phoenix, who is a symbol of eternity. The Phoenix reaches a certain age dies in the fire and is reborn from the ashes. Our Consciousness is working similar.
In meditative thought a phase came to me, "The mind is recreating itself from the mind". I didn't know what to think when I first heard that but the pieces started forming together. The Awakening process is essentially the mind recreating itself from the inside out.
But how does that relate to the dark night? Well to go into our Fears and start dismantling our illusions we need to be propelled into a trigger that unleashes a fight/flight response towards our adrenals. The root of kundalini is stimulated by the adrenals and located at the base of the sacrum. This is the triangular bone at the base of the spine.
Therefore the basis of the Dark Night of the Soul is ultimately about facing our fears and encountering a symbolic Death that is triggered by the collective unconscious.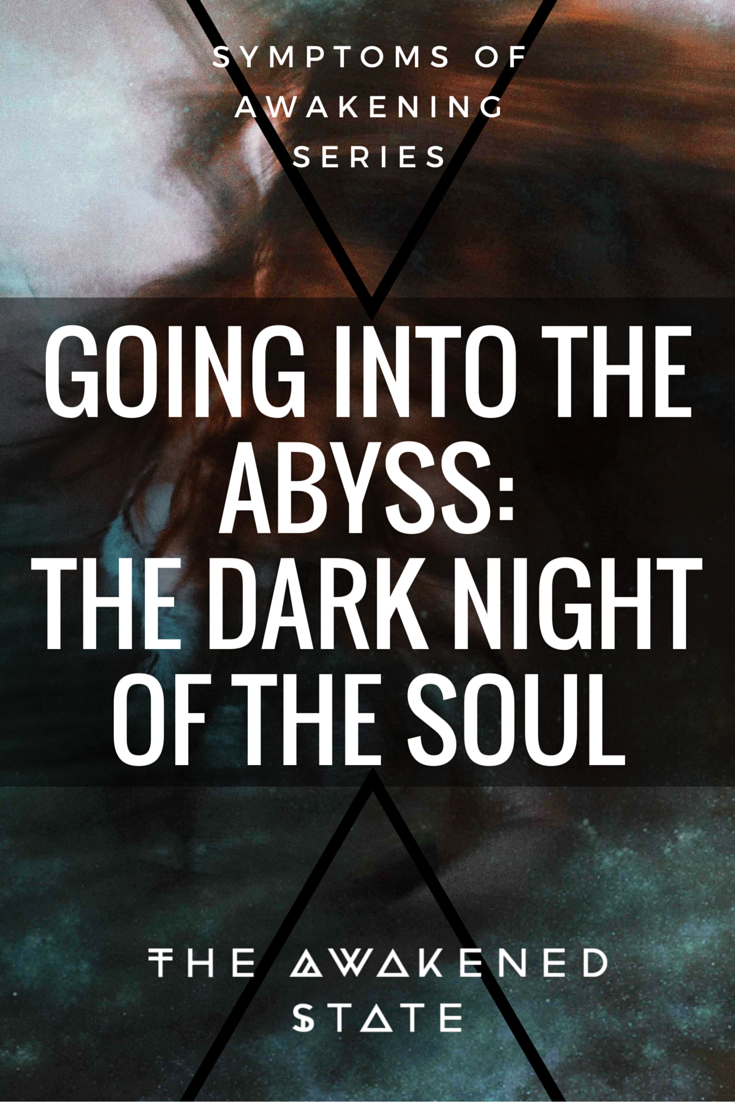 WHAT IS THE DARK NIGHT OF THE SOUL?
 The Dark Night connects into the previous article about Identity Crisis. The Dark night of the Soul is a natural part of awakening, it is the shedding away of our old skin. I always envision a snake taking off layer by layer of its skin.
It's the ripping apart of the old soul to be reborn into the New evolved consciousness.
No one is ever quite prepared for the Dark Night of the Soul. at this point, no one likes their illusions ripped apart in front of them like smashing a mirror and all that is left is yourself.
Basically what happens is you are faced with your Shadow Self. Our Shadow Self is the antithesis of our soul, it's basically the fundamentally aspect of the unconscious that wants to destroy itself. It is the projected mirror reflection of all of your desires, unconscious emotions, your wounds, past identity, karmic bonds and soul blueprint.
Your Shadow Self = The Illusion of Separation and Past Identity
THE PROCESS STARTS UNFOLDING
What happens is you are faced with illusions of the Ego that are coming to the surface for clearing at a drastic rate in time. Often these are unconscious wounds or Past Karmic bonds you still have that need to be healed.
If you were to think of all those emotional wounds you had growing up, amplified to an intense degree, thrown in a blender and put you in the middle of it. That's kinda what it feels like…
The Dark Night of the Soul  is where you are facing your own identity crisis as the old you dissolves and the New Soul is born. As Carl Jung States:
"There is no coming to consciousness without pain. People will do anything, no matter how absurd, in order to avoid facing their own Soul. One does not become enlightened by imagining figures of light, but by making the darkness conscious." 
INTO THE DARKNESS
The Symptoms and Events can vary person to person, however the sequence is generally similar.
How It Starts:

There appears to be more chaos that enters into your life as the old you encounters the Resistance of Letting go. This friction begins building and building.
It creates a desire to hold onto the old you, building a wall of resistance where you don't want to let go which causes more and more entropy within your daily life.
The Mind literally becomes a blackhole. Chaos Personified.
A Dark night of the soul creates an isolation with those around us, everything begins to rip apart within our reality, our friends, our family, and those we love most we feel we can't connect anymore.
Suddenly our friends, our family and those we love, fall into the distance and often they are either removed or ignored as the soul reverts almost into a chrysalis. A Cocoon.
DISCONNECTING FROM THE WORLD
We fall inside our cocoon, entirely disconnected from the world.
We feel an inability to connect because the universe is asking us to look more inward and question ourselves,our reality and what is our purpose here.
It is usually triggered by a dark event surrounding Loss and personified Death such as death of a loved one, a bad breakup, loss of a job, loss of a house, rape, bad illness, hospitalization, etc. Basically anything that causes an intense trigger in your personal reality, ripping apart your comfort zone of the Ego.
A cataclysm that triggers the destruction of the Ego as our subconscious breaks through. It gives us a look behind our own face into our worst fears and insecurities. It is about facing our dark night of the soul to get to the infinite light of our being.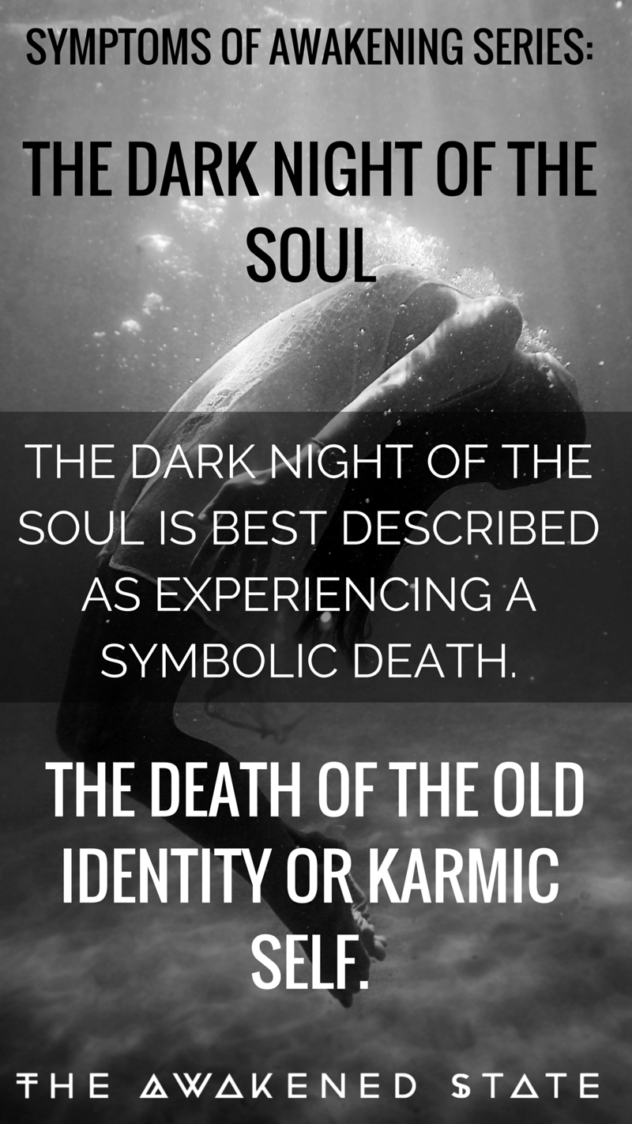 DEATH PERSONIFIED & REFLECTED IN YOUR REALITY
The Dark Night of the Soul is best described as experiencing a symbolic Death. The Death of the old Identity or Karmic Self.
The Card of Death in tarot is about change, transformation, death and rebirth, the ending of cycles, transitions into New Beginnings. This may seem like a hard time now but what it is creating is a beautiful new beginning. It is the rebirth of your Soul.
In the world of Tarot, The Dark Night also connects to the card of the Moon. The Moon is captive of illusions releasing into the blackest depths of our soul into the world of our subconscious. It represents a journey into the darkest night where we take a look behind our own face.
The Moon isn't the most comfortable trump, we rarely enjoy looking into our own abyss. This is the point where the truth starts leaking out of us and often times it is ugly and messy.
Vulnerable, the moons shows us what we ignore, what we refuse to see or flat-out what we are in denial about in our reality. This step while often uncomfortable, has to happen because without facing our darkness, we will never begin to see the light.
HOW TO COPE WITH THE DARK NIGHT

It feels like Pitch Black. Entering the Void.
I remember when I first experienced my own personal Dark Night of the Soul. I was heartbroken from a bad breakup, it was my first serious relationship. I felt numb, like the life force was gone from me. He left me but my soul felt gone too.
I reverted to my old issues of self-worth and self-harm. I drank, hallucinated, felt insane, suicidal, and harmed myself physically. I suddenly had no desire for life and merely walked through my days in a blur of nihilism and utter despair often crying myself to sleep. I felt like a shell of a person.
It was a very dark time in my life. I share this information because going through this experience allowed me to transform into the person I am now.
The Dark night creates an event on the cosmic journey where you're faced with your own internal darkness. The face behind the mask, the ego identity at its core, the antithesis. The only way out is to go so far in.
It is actually really positive in form despite the name.
It's about identity loss however it is also about finding yourself.
We have to travel the darkness by going into the underworld of our psyche to reclaim our soul and remember who we are.
BREAK THE ILLUSION
The identity loss is merely an illusion of separation, it's a way for the ego to disengage itself from the past identity.
That may seem a little loaded but basically we act out our experiences from our past identity to a magnified degree. In order to find ourselves again, we begin crafting out a new identity in the present reality/moment.
This is the beginning of starting to be a conscious creator of our experiences.
So when we're flipping the switch between past and future, we're stuck in the illusion of separation which creates a resistance/ cognitive dissonance. The resistance of letting go of the old identity, essentially the ego. So in order to go beyond that, you have to surrender into yourself.
The best way to surrender is by changing your focus, relaxing, letting go of the pain body, letting go of the memory that caused you pain and full acceptance.
The way I see it everyone is our cosmic mirror reflection, so what we feel from another, we also feel within ourselves. These people then become a mirror of our internal wounds.
FIND AN OUTLET TO RELEASE THE DARKNESS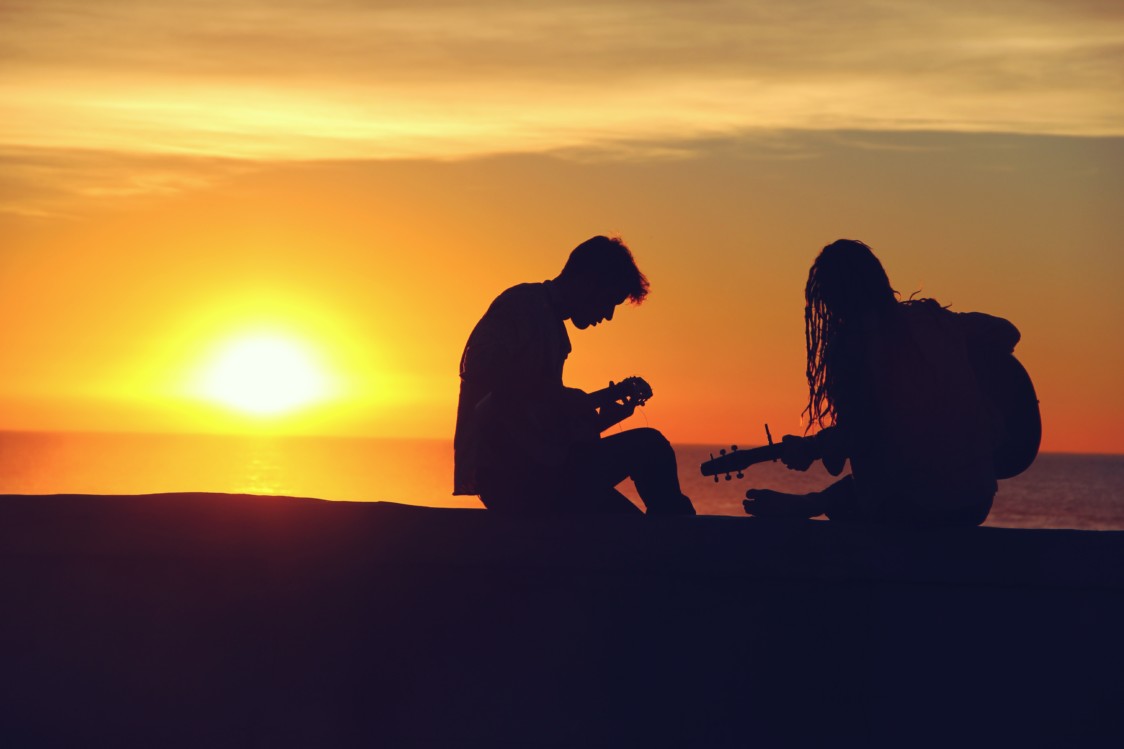 That was probably one of the hardest summers I ever faced, one day after a horrible night of drinking and cuts, I suddenly broke down. I officially hit rock bottom, I couldn't do this anymore. I begin doing the only thing that came natural to me. I wrote. Slowly day by day I would start writing poetry substituting a pen instead of a blade.
This simple act little did I realize was helping heal my soul because it provided an outlet for me to release these emotions from me. Of course the poetry was massively depressing but slowly it began transforming into this empowered music and poems from my soul.
The more I wrote the better I felt. This continued on as I started empowering myself in solitude eventually getting myself back.
When we create an outlet to release the dark night, our subconscious creates a symbol to release. Almost like an emotional purge. Writing saved my life and helped me find myself again.
I can tell you it DOES get better. You merely need to find some intense discipline and will power. The best way to do that is by finding a simple healthy outlet instead. For instance instead of falling into the chaos try a creative outlet or hobby where you can surrender to the resistance. You could also try deep breathing.
I know it sounds silly but one technique you can do is write angrily the emotion you feel but repeat it. You could write "fuck" a 100 times but what happens is you're able to RELEASE in a healthier way.
We cannot change our life until we start with changing ourselves.
If you truly deeply want to start living a healthier and happier lifestyle, you gotta commit to it. Work towards change.
It won't happen overnight but it IS possible. You have to be strong and develop some discipline towards your mind but is IS possible. Find an outlet, a very simple outlet where next time you feel this way, you can release differently without harm or chaos in your reality.
STEPS TO HEALING
Forgiveness – Forgive yourself. Forgive DEEPLY. Accept that it happened but today is a new day and that day may be the start of a new beginning where you can get yourself back. You can be happy but you have to start working on guiding yourself there.
Gratitude – I also recommend gratitude practice, try 5-15 gratitude affirmations a day, use this time to focus on your goals you wish to achieve and really hone in on what you do love about your life and yourself. Find what makes you happy, you will get through this.
Connection – I also recommend connection, try talking to others about the way you feel, a hug or even a warm conversation can help even a bad day become better through the hard times that come with the Dark Night of the soul.
Hope you enjoyed reading.
Let me hear your own Dark Night stories & triumphs in the comments!
Symptoms of Awakening series Part 3:
The Transition Phase: Spiritual Bliss to Stagnation